Akers Custom Promotions
Akers Custom Promotions, established in July 2016, is committed to providing our clients with the absolute best prices available...but most importantly, being there when you call upon us! Whether it is an email or a phone call, our leadership team will respond to your needs and requests. We will get it right!


Take Command of YOUR Brand!
Our ownership team is comprised of three individuals with over 50 combined years in retail ownership and sales. We have been on both sides...the buying perspective and the selling perspective. We have owned our own brands and maximized their capabilities, and now we want to help you do the same!


Featured Item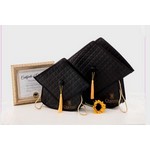 The Quilted Grad Bag - 17"x19"
Luxury Quilted Graduation Bag. The Grad Bag is a magnificent bag option for a school function event,college party celebration and educational fundraiser projects! It is the real bag with the real genu...